Even though it's still summer here in Mauritius, the holidays are now decidedly over, and you may find yourself using your garden furniture less. To make sure that you can still enjoy them once the holidays come by again, you need to care for your garden furniture. Because even the most resistant and well-adapted outdoor pieces need a good clean up every now and then! Here are our tips to help you with this important task :

A few general guidelines 
Before we begin, keep these basic guidelines in mind :
Always keep your user manuals. The manufacturers know best how you should upkeep your furniture.

Avoid abrasive cleaning products unless specified otherwise in the user manual. Even if they seem appealing with their promises of cleanliness, they can seriously damage your garden furniture.
Resin garden furniture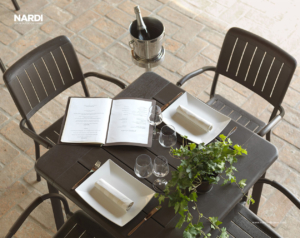 Musa chair and Maestrale table from Italian brand Nardi
Being one of the best materials for outdoor furniture, resin furniture requires only minimal care :
To prevent the appearance of mildew, wash resin furniture with water and some mild soap if there are any persistent stains.

After washing, let the furniture sun-dry.
Synthetic wicker garden furniture
Resin wicker furniture normally have an abundance of nooks and crannies that give them their signature look. Alternatively, these are also ideal places for dust to settle. To clean your resin wicker furniture, you should :
Dust your furniture thoroughly to remove any dust.



Clean it using a hose or

mild water pressure

. All the dust and grime should then be washed away.

However, if you notice some remaining dirt or deep stains, use mild soap and water to wash your furniture.
Teak wood garden furniture

Nivelle sunlounger
Teak wood is ideal for outdoor furniture : it is robust and lasts through the years. To keep your teak furniture in good shape, you should :
Be careful not to place it near water sources. Water may then infiltrate your furniture and damage it or allow mildew to grow.

Wipe down the teak surface with water to get rid of dust. Use a special teak-cleaning product to wash away light stains that can occur.

If you want your teak furniture to maintain its golden brown colour, apply teak oil to restore the protective layer washed away during cleaning. Otherwise, the colour will naturally soften to a light grey. However, this does not mean that the wood has lost any of its quality. In fact, many people choose to let their teak furniture turn grey because of the aesthetic appeal it holds.
Umbrellas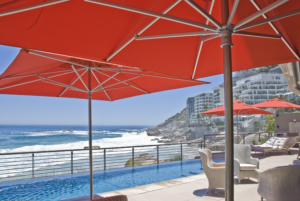 Anyone who has ever folded an outdoor umbrella knows that a number of unpleasant things can pile up on the cover. To restore your umbrella to its former glory :
Fold your umbrella and, with a soft brush, brush down the cover to get rid of dust and mildew. If needed, use a wet cloth to get rid of deep stains.
Remember to also take care of the umbrella frame : on wire-frame umbrellas, oil the joints to ensure easy use.
Tables and chairs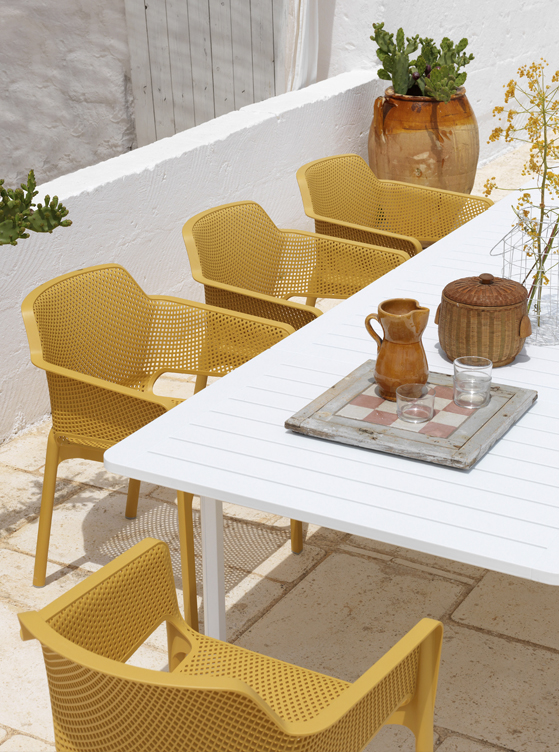 Net chairs and Alloro table from Nardi
Once you've cared for and cleaned the wicker, teak or resin surfaces of your outdoor furniture, remember to tighten the screws and bolts keeping them in place so that your outdoor dining furniture remains stable.
Need more garden furniture advice ?
Do not hesitate to contact us to ask any questions you might have. Our garden furniture experts will be happy to help you!