Do you often feel like time is going by too fast? Are you stressed? Better yet, does it feel like you never have enough time to properly enjoy life? Then slow living might just be what you need. Slow living is a lifestyle trend that has won over the hearts and lives of thousands of followers. This approach to life emphasises a slower way of living, one where duties mesh well with the simple pleasures of life.
A little bit of history
Slow living came to life in the 1980s and 1990s as a result of the slow food movement, itself created in opposition to the widespread consumption of fast food. The "slow" from "slow living" and "slow food" actually form an acronym which gave rise to the use of the word:

S — for Sustainable or eco-friendly
L — for Local 
O — for Organic
W — for Whole, meaning unprocessed products
The slow living movement has also benefited from these values.
So how should you apply these values and principles to your daily life? Continue reading to know-how!
Disconnecting…to better reconnect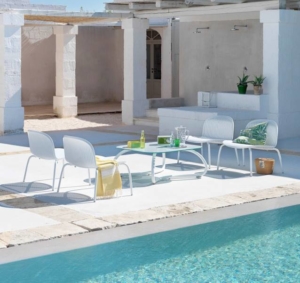 Ninfea Relax chairs from Nardi 
Many of us are anxious at the prospect of leaving our phones behind. They are used as video players, cameras, GPS, work computers… we couldn't possibly live without! Fortunately, that is not what we are asking you to do. Being a huge source of distractions (and therefore of disturbance), we merely ask that you put your phone aside during your dedicated relaxation moments. Think about it, how many times has a notification or a call stopped you from enjoying a nice siesta on your favourite sunlounger!? This kind of distraction can affect your well-being, preventing you from reaching deep relaxation. Once the phone has been put aside, you will be better able to live in the moment. 
It is then and only then that you will be able to truly reconnect to your surroundings. The aroma of a steaming cup of coffee, the freshness of the breeze, the texture of your outdoor sofa under your fingertips, the chirping of birds in the distance…
Forming small habits
Create and maintain small habits centred around your well-being in your active life and during your relaxation time. They will help you to cut through your frenetic routine and bask in the glow of tranquil moments. The habits you can take up are limitless: taking the time to make a delicious breakfast, reading the morning paper, exercising, spending time with your children in the garden… These little moments will help you better appreciate everyday life.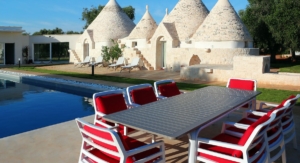 Aria chairs and Alloro table from Italian outdoor furniture creator Nardi
To spend time with your family, the simplest plans tend to work best: gather around a delicious meal for lunch or dinner in your outdoor spaces, in the garden or at the poolside. To host these quality moments, furnish your spaces with irresistibly comfortable armchairs and sun loungers. 
With its plush backrest and pleasant armrests, the Aria chair is ideal for quality time with family members and friends.
Spend more time outdoors
Unsurprisingly, spending too much time indoors doesn't do you much good! Being outdoors, however, has a lot of benefits. Among other things, green spaces help lower your blood pressure and have a positive impact on your mood. This comes as no surprise when we all know how relaxing even 5 minutes spend in one's garden can be. So take your time! Let the sunlight glide over your skin, inhale the sweet scent of flowering trees…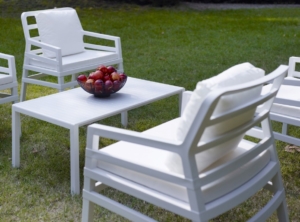 Aria chairs from Italian outdoor furniture creator Nardi
To make the most out of your outdoor experience, choose Raymark outdoor furniture. Refreshingly simple, our various partner brands are known for their refined designs which beautifully complement any kind of setting. Our outdoor chairs, sofas, sun loungers and tables are born from Italian and Spanish relaxation traditions. In this way, our furniture is sure to help you enjoy moments filled with joy and beautiful simplicity. Imagine these pleasant times spent around brunch on your terrace, a warm cup of tea in hand…
Contact us! 
Do you have a question? Would you like to know more about our outdoor furniture? Don't hesitate to contact us, our team will gladly help you!