In Mauritius, like in many countries around the world, current events have made it so that we are all staying home. But that doesn't mean we have to remain in our rooms, glued to one screen or another all day… Seize this opportunity to strengthen your relationship with your family in a relaxing setting: your garden! Being there will help improve your mood, give you a better environment to exercise in and even help you replenish your vitamin D stores. Make this lockdown period go smoothly by arranging your garden (with what you have at hand!) into several dedicated areas for the whole family. 
Play space for the children
If you were looking to instil the love of nature in your children, this is as good a moment as any! Encourage them to appreciate the outdoors by building them a play space where they will be able to expend all of their energy in a safe, controlled environment. Better yet, have them help you build the playspace to make the experience even more enjoyable. There are numerous ways to go about creating this kind of space. If you have some sand, you can build them a sandbox, marked off with wood planks or an old wheel. And why not bring back the camping spirit with a tent pitched in the garden? Kids will love the idea. The hardest part will, of course, be to convince them to get out of it! 😉 
A flowerbed
Not feeling particularly happy? A beautiful flowerbed can lift your spirits anytime! Here's how to make one to keep any wandering little hands at bay… After planting or transferring your plants in the ground, mark off the space with a few well-placed stones. Thus delimited, an additional boundary is created, helping you protect your flowers from the ever-growing curiosity of children.
Making optimal use of the available space
Playing around in the grass brings its fair share of joy and good times, but is never really ideal…and it's not the stains on your clothes nor your ruined lawn that will say otherwise! To enjoy your outdoor spaces without suffering any of these drawbacks, create a lounge area with outdoor carpets, plaids and cushions set under the shade of a tree or on a flat area of your garden. The whole family will be able to use this space for a variety of activities: reading, games, naps, all the while filling up on vitamin D! At lunchtime, the lounge space can also be converted into a picnic area, to the whole family's delight. 
Taking out the hammock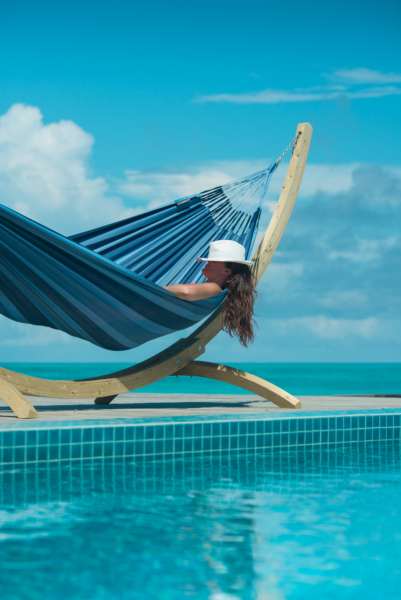 It is high time to take out the hammock from its hiding place in the garage! Even while working from home, a hammock can help you relax and switch to a more leisurely pace. It will also give you some time to yourself, away from everything else. Those in search of solitude will surely find what they are looking for in this kind of setting. In this way, it is also much easier to relax or to focus on a task. 
Raymark offers high-quality hammocks: padded, made of ropes or from fabric, our hammocks are long-lasting, providing comfort and relaxation to our clients.
The outdoor sofa under the veranda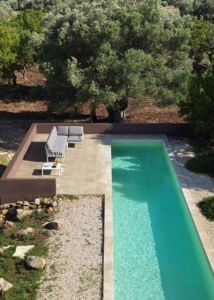 Looking for another way to relax? Lay down outside and enjoy the freshness of the air. Beautiful armchairs with comfortable seats and armrests will be the perfect companions for these peaceful moments. Raymark offers high-quality armchairs and garden chairs which you may have had the chance to discover thanks to our many clients around the island. 
The Ony & Only St Géran and the Tropical Attitude hotel, among many others proudly display Raymark products made for outdoor spaces. 
The vegetable garden
You don't need a lot of space to grow your own vegetables and fruits. A square metre of soil is enough to experience the joys of gardening. This area will please small and big nature lovers alike, engaging much of the time spent in the garden. 
Having to stay at home is no easy feat… But we are counting on you to do just that so that soon enough, we can all enjoy the sunlight together.