In Mauritius, it is now officially the season where we use our outdoor furniture most! To celebrate the coming of the new season, it may just be time to makeover your outdoor spaces! Discover this summer's trends and transform your outdoor space into the best version of itself. Whether it is a garden, patio or even a poolside, find all the tips you need to have a beautiful outdoor space.
#1 Mix design and function
In 2019, outdoor spaces are part of the house. They are no longer considered separate spaces and so we maximise their use for an ever-better daily life. And so, we choose outdoor furniture that is not only aesthetically pleasing but which is also functional and comfortable. Among those, we find modular solutions, furniture which adapts to your needs thanks to its concept based around flexibility. The Komodo sofa by Nardi is one such example of this kind of furniture. 
With five seats and a modular base, the Komodo sofa transforms according to your needs and with a little bit of imagination. Create a three-seat sofa and two separate seats, five individual armchairs or even an angle sofa. If you are planning to host a good number of BBQ parties and brunches this summer, this particular kind of outdoor furniture is simply ideal!
#2 Eco-friendly outdoor spaces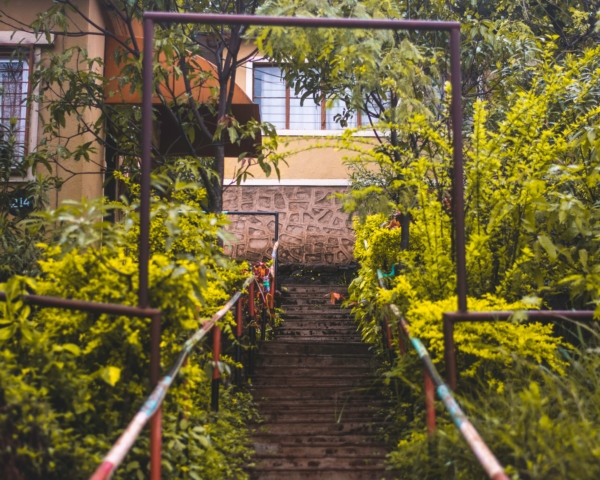 The green movement has taken over this year! Actually, you might remember that we had already made mention of it in our blog post about how to create a more eco-friendly garden… This trend geared towards sustainability is even more present when it comes to outdoor spaces, as the possibilities are even greater there. A return to nature and simplicity can be found at the core of this trend. Lush greenery, succulents but also natural materials are popular within this theme. Wooden sunbeds, outdoor dining sets in wicker/synthetic wicker, hammocks made from fabric… all these elements come together to create earthy spaces.
#3  Summer colours
Ah, summer colours! This season is well-known for its sunny colour palette. This year, vivid colours have again come on top of the game and have shone in outdoor spaces. Here, we are thinking about a living coral colour, which was even named colour of the year by Pantone.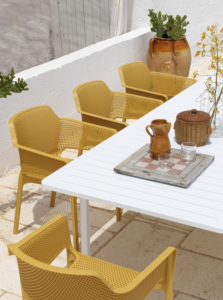 Net chairs by Italian designer Nardi
Mustard yellow is as popular this year as it was before, giving a beautiful glow to gardens and patios. In a surprise twist, powdery colours have also risen to popularity this summer. Shades of brown and powdery pink have indeed found their place in outdoor spaces.
#4 Accessorising outdoor spaces
Since outdoor spaces are more and more seen as part of the house, they are decorated as such. Carpets, pot-holders, dreamcatchers…  all of these decorative elements help to warm up outdoor spaces. 
To be on-trend thanks to high-quality outdoor spaces, Raymark services, outdoor furniture expert in Mauritius, is your one-stop-shop!