Getting back to work is never easy…if you are already thinking about the holidays, you are not the only one ! Our search for relaxation has brought us a select few pieces of truly remarkable outdoor furniture. Elegant, refreshingly minimalistic or featuring innovative designs : they have quite simply won us over !
The Bolonia Lounge armchair from spanish designer iSimar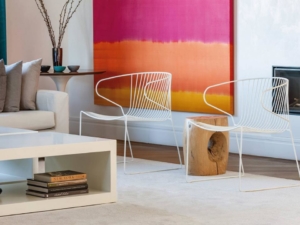 This minimalistic armchair has us completely enthralled. Its thin-set lines and delicate design give a feeling of incredible lightness to the room. Moreover, its tilted back makes it ideal for relaxation, not to mention its wide array of colours that leaves a lot of room for choice.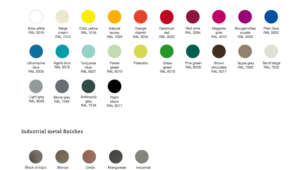 Since it follows the minimalism trend, you can easily go for bright colours with this armchair— they will give a modern, "pop" twist to your décor. Made from galvanised steel, the Bolonia Lounge armchair is adapted to outdoor use but also lends itself so beautifully to interior spaces. Honestly, we couldn't ask for more…
But for an even more graceful design, you can always look to the stool version of the Bolonia Lounge armchair.

Bolonia stool from iSimar
The Astro umbrella from italian designer Scolaro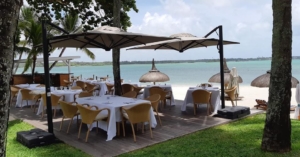 Astro umbrellas from Scolaro at the One and Only Le Saint Géran
Why choose the Astro umbrella instead of another umbrella, you ask? Well, its sturdy base and easy change system are truly incredible. It is highly resistant to even strong gusts of wind— a vital quality for outdoor umbrellas. On top of that, Astro umbrellas are retractable, available in 3 colours and come with a 360 degrees turning base, making them that much more practical. They also possess undeniable aesthetic value. In fact, several of these umbrellas are now gracing the beautiful outdoors of the One and Only Le Saint Géran.
The Komodo sofa set from italian designer Nardi Outdoor
Nardi designs are no strangers to Raymark…Yet time and again, Nardi keeps surprising us. Most recently, it is the Komodo sofa set that has had us singing Nardi's praises. A true gem of intelligent design, the Komodo sofa is modular and features a fiberglass resin frame. You can create your own seating arrangements quite intuitively by attaching and detaching padded cushions and backs. Add to this the italian elegance that is all Nardi's and we are more than ready to welcome the Komodo sofa set in our home ! Why not you, too? 😉
Living Coral, colour of the year
Net chairs from Nardi Outdoor (Coral shade)
Finally, it is the colour of the year that has swayed our hearts. Chosen by Pantone, Living Coral is infused with a liveliness that is quick to lift your spirits. Find this magnificent coral shade over at Nardi's with their timeless Net armchairs. Their minimalistic design coupled with this lively colour make for a simply divine piece of outdoor furniture.
Did something catch your eye?
We have good news for you : all these beautiful pieces of outdoor furniture are available here at Raymark ! Contact us to learn more or to order the piece that has struck your fancy !