The first mistake people usually make when furnishing their patio is… not to furnish it! Your patio is a part of your house and deserves to be well-furnished and decorated. After all, patios offer undeniable advantages!
In order to successfully furnish your patio, try not to make these 7 mistakes :
1. Not matching your patio with your interior spaces
Your patio is as much a part of your house as your living room or kitchen, and so it should match your interior spaces! The theme (retro, minimalism…) and the colour palette of your patio should match your interior decoration choices. Otherwise, your patio might just stand out in the wrong way…
2. Not taking the weather conditions into consideration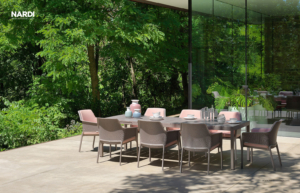 Net chairs and Rio table from italian brand Nardi
Being located outside means that your patio is exposed to the sun, wind and rain on a daily basis. It is important to choose outdoor furniture that can resist such weather conditions. You may want to choose furniture that is treated against ultraviolet rays and rust.
You can also opt for a large umbrella to protect yourself from the sun. Made of acrylic fabrics treated to resist outdoor conditions, this kind of umbrella will last long and will add to the beauty of your patio.
3. Crowding your patio and obstructing the view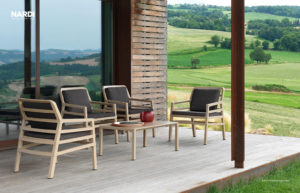 All Nardi furniture pieces are treated against UV rays. (Featured: Aria armchairs)
Decorating your patio is necessary, but try not to overdo it when it comes to furnishing or decoration. You may even obstruct the beautiful view you have if you crowd your space. Keep in mind that you are furnishing it to accentuate its beauty. At times you only need a few pieces to bring out the best of your patio.
4. Not thinking about the materials your furniture is made of
In order to last, your furniture needs to be made of high quality material, whether that material is wood, resin or epoxy-covered metal. It's therefore important to learn to choose high quality outdoor furniture.
5. Not thinking about the size of the furniture
A golden rule when it comes to furniture is to always make sure your furniture is of the right size! If your patio is smaller in size or if it's a tight fit, you may want to choose modular or stowable furniture which are better suited to small spaces. If you have a larger space available, you can then choose extensible furniture.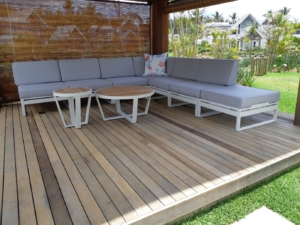 Aluminium-made Atessa sofa and Sunbrella cushions  
6. Not thinking about creating your own private space
Having a patio gives you the opportunity to create a private corner for yourself without being overlooked by neighbours. Thanks to a few strategically placed plants, a large umbrella, or even suspended flower pots, you can create a tranquil spot without worrying about being overlooked.
7. Not taking advantage of Raymark offers!
It would be a shame not to take advantage of our amazing deals! Raymark offers high quality outdoor furniture at competitive prices, and if you do not want to miss out, contact us now to learn more!