Modular, stackable, extendable folding — outdoor furniture comes in many shapes and forms, but which one is best for you? 
Modular outdoor furniture  
Modular furniture is fraught with possibilities. A piece of modular furniture may start out as a sofa, a storage item or a table. But what makes it truly impressive is that modular furniture can be transformed and customised according to your tastes and needs. This is possible thanks to its innovative design. Modular furniture is made up of modules that can be detached and re-attached, allowing you to create, as though with construction blocks, the furniture that you need. 
Advantage: Custom solutions for all your furniture needs! Create the ideal set-up according to the event. 
Disadvantage: None that we know of! But always be mindful of the quality when you are buying furniture. 
Best suited for: This type of furniture is perfectly adapted to all environments as it is modular. 
One modular piece of furniture from our collection: The Komodo soda from Italian designer Nardi. Its simple design inspired by nature hides a surprising versatility. Its padded cushions will give you great comfort regardless of the chosen layout. 
Extendable outdoor furniture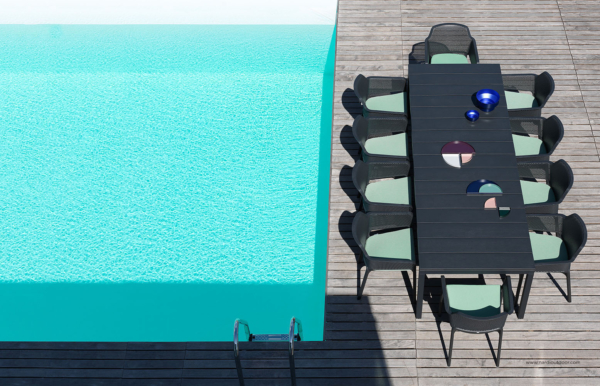 Rio table from Italian designer Nardi
Extendable furniture mainly refers to extendable tables. This kind of furniture can change sizes thanks to an integrated mechanism. You then have the ability to create the layout you need at that moment. 
Advantage: Adapt your furniture size to the number of people you intend on receiving. In this way, your furniture will not take up any more valuable space than necessary. 
Disadvantage: Poor quality furniture will be weak at the joints.
Best suited for: Large groups.
One extendable piece of furniture from our collection: The Rio table by Italian designer Nardi. This table can easily extend from 210 to 280 cm and is ideal for your brunch or lunch plans with family and friends. 
Foldable outdoor furniture 
As the name suggests, foldable furniture is furniture that can be folded. Foldable furniture is equipped with a mechanism allowing it to fold and close in on itself. It is more common to find foldable chairs, but know that foldable tables also exist. 
Advantage: This type of furniture is ideal if you plan on moving your furniture around often. 
Disadvantage: If your furniture is of poor quality, it is quite likely that it will be fragile at the joints and may easily get damaged. 
Best suited for: Picnics and other events that require you to carry your outdoor furniture.
Stackable outdoor furniture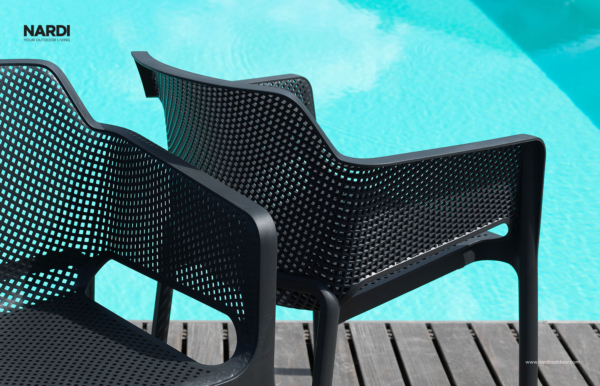 Net chair from Italian designer Nardi 
Stackable furniture is simply furniture that you can store by stacking one piece of furniture on top of the other. Usually, a lot of seating furniture (chairs, stools, armchairs) will be stackable, but even tables can be stackable. Be careful though, as not all seating furniture is stackable. 
Advantage: Storage is not an issue. 
Disadvantage: A poor quality product or one with some kind of defect will get stuck rather easily. 
Best suited for: Small spaces— store this type of furniture easily and quickly once you no longer need it. 
One foldable piece of furniture from our collection: The Net chair from Italian designer Nardi. Available in a rainbow of colours, the Net chair epitomises comfort and summer thanks to its sleek design.
Quality, always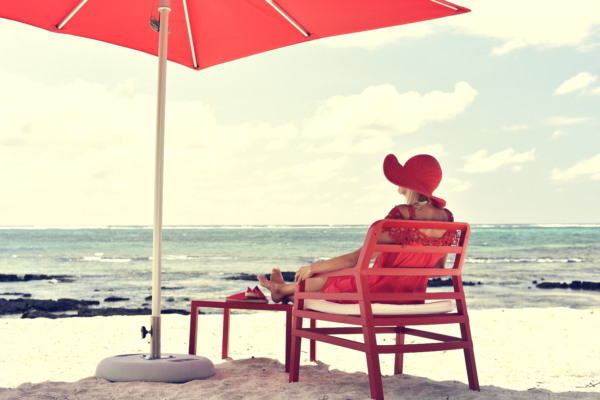 Regardless of the type of furniture you choose, quality remains of utmost importance. Otherwise, you might find yourself buying a new set of outdoor furniture each summer. Rather, do not be afraid to invest in high-quality furniture that will stay with you for many long summers. 
Here at Raymark, we do not compromise on quality. Each brand we partner with is selected with great care and all our products conform to international safety norms and quality standards.
Contact us! 
Do you have any questions about our products? Feel free to contact us, our team will be glad to help you find the best type of furniture to suit all your needs.